Quartz Worktops
Quartz is a man-made composite material, constructed from engineered stone mixed with polymers, resins, and ground quartz. Pigments are sometimes added to create different colours and hues. They are combined to create a solid slab that are sealed and cut to fit the tops.
These worktops are hard-wearing and create a luxury feel, blending seamlessly with any interior. They offer the same feel and weight as natural stone and are available in a range of colours and patterns.
Our quartz worktop installers can fit all types of brands including Cimstone, Lunastone, and Silestone. Having quartz worktops will always add value to your home and whilst they are not the cheapest option, with the proper care, they will last for around 20 to 25 years. It can be a great alternative to natural stone.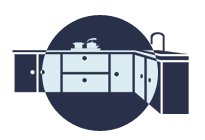 Benefits of quartz worktops
Quartz worktop fitting and aftercare
Our professional team can install your quartz worktop. Thanks to our expertise, your mew worktops will always have a clean and polished appearance. Since the designs are man-made, they can look very elegant and uniform glossy finish.
Quartz worktops will only require regular cleaning and if you notice any scratches, these can be buffed out.
Quartz is not as resistant to heat as other natural materials, such as granite, so never place hot pots and pans on the worktops.