Laminate Worktops
Are you in the process of renovating your kitchen or installing a new kitchen on a budget? In which case, laminate worktops could provide the perfect solution. Olly London Worktops can fit all types of laminate tops from all leading brands, including Apollo, WilsonArt, Duropal, Axiom, Spectra, Bushboard, and others.
What are laminate work surfaces made from? Laminate work surfaces are made from a composite wooden particle board core and wrapped in an overlay using heat and high pressure.
The process makes the laminate worktop waterproof, tough, and hygienic. Laminate worktops can mimic the appearance of all types of natural materials, including quartz, wood, granite, and marble, for a visually stunning effect.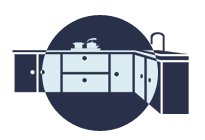 Benefits of laminate worktops
Laminate worktop fitting and aftercare
Our laminate worktop installation specialists can fit your new worktops with care in less than a day. We can navigate all the corners, cut-out shapes for fitted appliances and odd shapes, so your new worktops look fantastic in-situ.
These surfaces are very durable, but we would advise using a chopping board and ensuring that hot pans are not put directly on the surface. Simply wipe them down regularly with hot, soapy water to keep them clean.